UI#2 - Moved to the VF Navy patch page, VF-5 section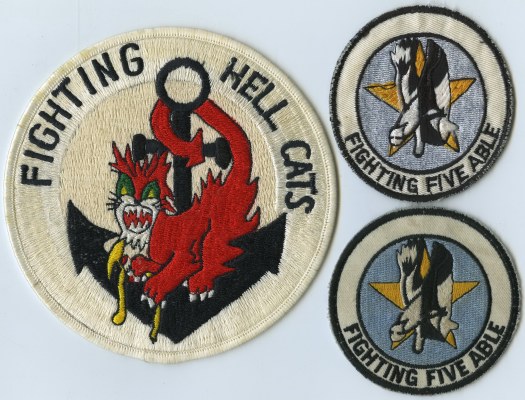 ( moved to the VF patch box )
UI#4 - "RED NOSE TIGERS", Japan made, Korean War Era(?), USAF Air Cargo Delivery?
ID'd as the 757th Troop Carrier Squadron "Blue Tigers", this isa Special "RED NOSE TIGERS" patch made for a Christmas Drop circa mid-1950s
listed on the Troop Carrier Section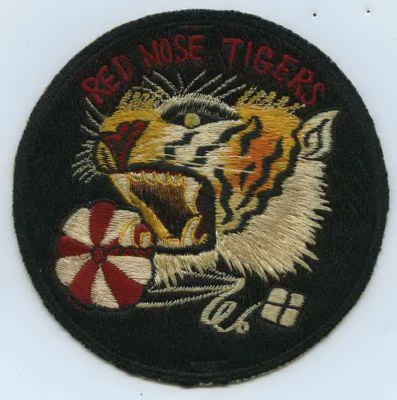 UI#8 - Black Dress Uniform Jacket with U. S. Army Buttons, 8" tall Bullion Corporal Stripes,
"WPL 444" (I don't have a WPL issue list so I can't determine the date), any ideas?
(additional input: "possible Dress Uniform for the Unknown Soldier's Honor Guard...for Special Occasions"?)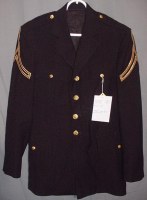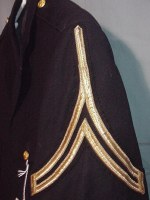 UI#9 - WWII Army style Khaki Shirt (PX Purchase), tailored shirt with crotch-strap & sweat-guards in the armpits.
Maybe for an Honor Guard, movie item, or etc., Any Ideas?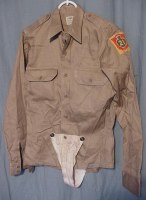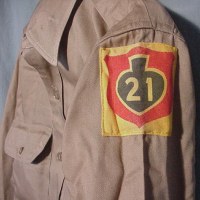 UI#10 - 5" FE Thunderbird patch came with a 456th FIS patch, maybe a "Flight" withing the 456th?
(I have seen a similar Red & White patch - owner had no idea what Unit had used it - probably 1950s era)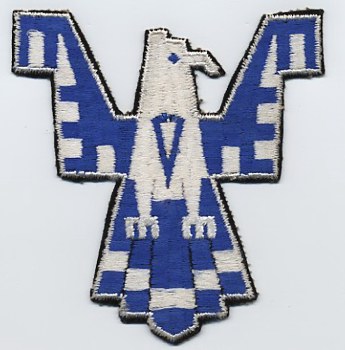 UI#14 - "Teeny Weeny Airlines" patch from Vietnam Era (Southeast Asian made) ("TEEHY" should read Teeny), Unit........(SOLD)
(ID'd: Command Airplane Company flying U-21's based at Long Thanh North AAF; about 15 airplanes that carried: beer, cokes, pigs, and folks.)
( This patch is also claimed by the ARDF Section of the 3rd RRU based in Saigon flying missions out of TSN. )
"Bombardment" patch?
Eagle with Bomb patch, possible unit number is "6", "33", or etc.? (A Veteran said this was VS-771...however, I have not been able to verify this ID. Renumbering it as UI#383/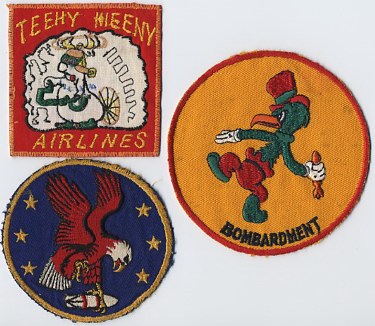 ( Eagle with BOMB retagged UI#383- moved down )
UI#15 - Voice of America, Poro Point, Philippines, anyone know History on this VOA patch (PI made)?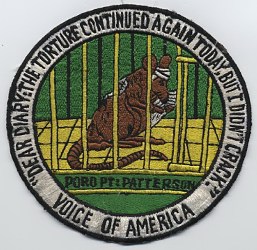 UI#17 - Possibly an Aviation Patch, Asian made, circa late-1960 to 1970s, ever see one?
(ID'd as a Philippine Air Force Squadron that flew F-8 Crusaders out of BASA AFB)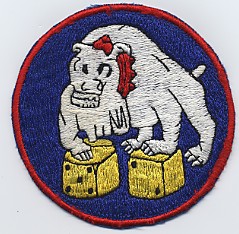 Could be the 52nd or 7th or etc.
UI#18 - Possbily the VP-26 Tridents? 1960s era made in Japan, ever see one?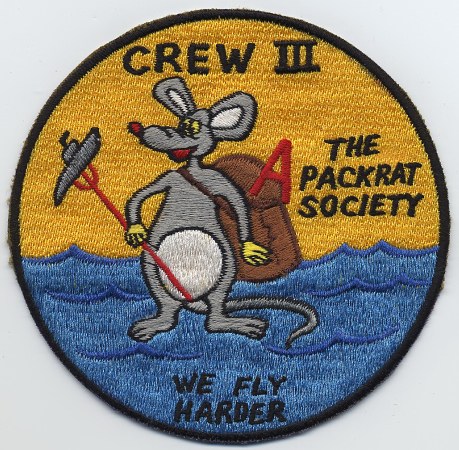 (shown on the Navy Patch Page "Other SQDNs")
UI#28 - "Silencium Vel Letum"(Silence or Death), in his eye socket is a "III"; found with some SOS patches, Asian made, a Gunship squadron?
(could the "III" mean an AC-119(Shadow or Stinger) as they were the 3rd Gunship version?)
UI#29 - "F I Gung-Ho".............(moved down to UI#360 on 110410)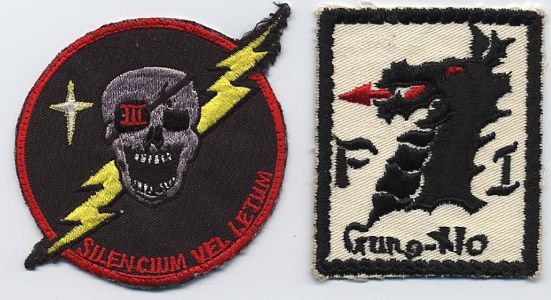 (also shown on the: SOS/ACS and 1st - 43rd Flying Squadron pages)
UI#30 - "Raider Flight", probably made in Korea in the 1960-70s, maybe 2nd Infantry Division Aviation?
(ID'd as the 2nd Infantry Division, Division Artillery Aviation section, Camp Stanley, Oui Jon Bu, Korea 1975-77)
UI#31 - "Fragrant(?) Region 5" and on the reverse is written "1175 7", any ideas on the ID?
from a viewer "ID'd as a SR-71 related patch in the 1980s" (this info from email on 100227)
Possible connection to the Skunk Works or SR-71 project?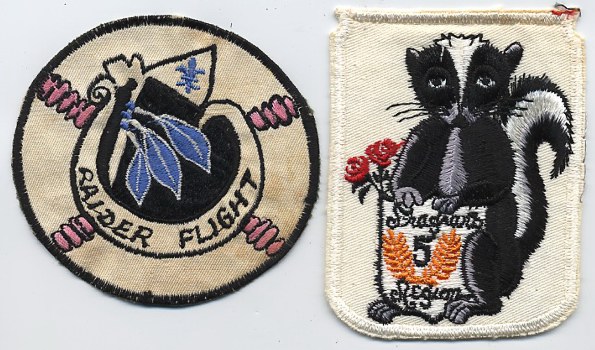 ( also on: SR-71 and Squadron Main page )
UI#35 - Crown Ranch, cheesecloth backing, any idea?
( Idea on ID from a viewer: ""Crown Ranch" patch, possibly a promotional item from the 1950's "Sky King" TV show starring the late Kirby Grant.
He was based at his fictional Flying Crown Ranch." )
UI#36 - HUEY Starlifters, cheesecloth backing, got an Air Force look but?.........(sold)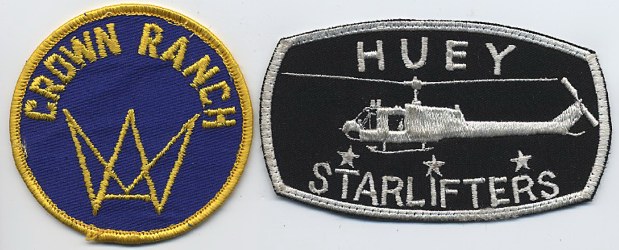 UI#37 - Para SCUBA looking, Japan 1960s(?)........(SOLD)
UI#38 - "B" Shift, "A B C", "We Carry the Load", coarse gauze backing-high quality patch, Okinawa, Japan, or Korea?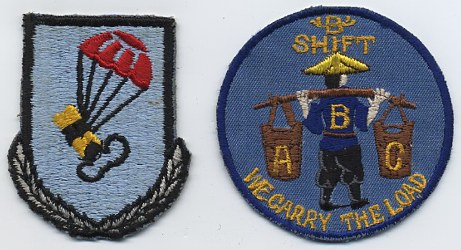 UI#39 - "SKYBORN" gauze backing, cut-edge Hornet patch, ?
UI#40 - Seagull with Bomb....ID'd as the 371st BS(M), 307th BW(M) circa 1952 - 1965.
This patch looks like a 1970s manufacture(?) with the white Polyester Twill backing material?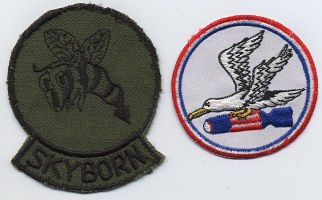 UI#41 - "Black Magic", Pellon backing, a note came with the patch: "660th Special Operations Group C-130 Light Ship Callsign: "Black Magic", sounds good to me....any ideas?..............(SOLD)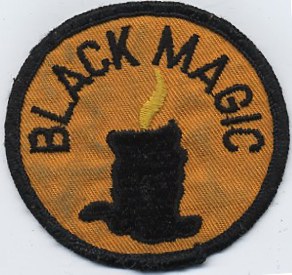 UI#42 - "RANGER C 9 M", came from an old-time Military Family, possible Japan made in the 1950s(?).
Looks like an Ice Axe hanging on the left ski; a coiled rope on the right ski; sled leaning on the skis(?).
(A thought on the patch origin: Charlie Company, 3rd Battalion, 9th Infantry Regiment was Inactivated on June 20, 1959
and relieved from assignment to the 2nd Infantry Division while stationed in Alaska. On the same day it was Redesignated HQs & HQs
Company, 3rd Battle Group 9th Infantry Regiment. The "M" on the mountain could be for Mount McKinley?)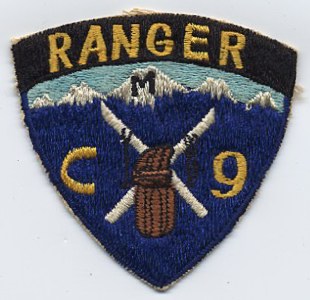 ( Also on Army 1950 - early Vietnam page )
UI#48 - Kangaroo with baby in pouch, older high-quality workmanship, probably Japan made, Army Dustoff or ?..................(sold)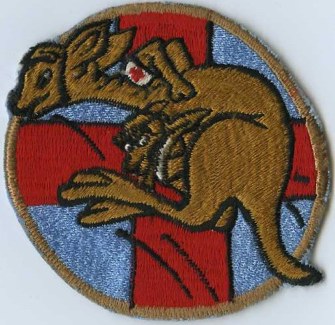 UI#53 - 3" insignia from Fort Crook (now Offutt Air Force Base(?)), "OAS" "Civilian Instructor", pre-1948?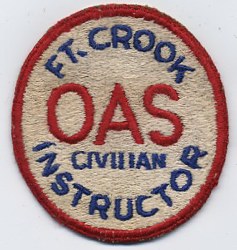 UI#56 - WWII Italian made for a B-25 Unit, this may have been ID'd in the Trading Post, per a few collectors????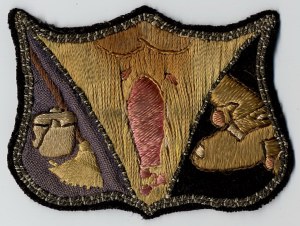 ( see details on USAAF page )
( stored with USAAF patches )
UI#65 - 4 5/8" older merrowed edge with cheesecloth backing, removed from clothing, any ideas?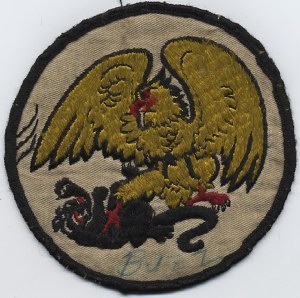 stored in gray cabinet
UI#68 - written on the back is: "Flying Fish" and "1961", possbily a VAH A-3 unit??
(could be from a VAH outfit flying the A3...guy looking backward hanging from the lower fin is the way the 3rd Crewman faced in the A3 Sky Warrio